The World's Best Pedicab Operators
Winning Smiles, Legs of Steel
Our riders come from a wide variety of backgrounds, but all share a love of adventure. Each brings a unique perspective to Cabrio Taxi.
Pedicabbers Jumping
4 Cabrio Taxi pedicab operators jump for joy!
San Francisco Pedicab Pedal
Bill Cummings pedals a Cabrio Taxi Pedicab.
Cabrio Taxi Pedicab Wedding at City Hall
James Tracy, of Cabrio Taxi, gives a ride to pedicabber Stan Wolf and his beautiful wife to be.
Pros/Chameleon Pedicabs at Dreamforce 2014
We branded these pedicabs for Dreamforce 2014. It rained, and Cabrio Taxi pedicabs were the only pedicabs with rain canopies at the Dreamforce event!
Cabrio Taxi Pedicabs Bocce Team
Cabrio Taxi fields a Ferry Bocce team called Trikecycular Manslaughter. The team won the first ever Ferry Bocce Championships, and has been a force to be reckoned with ever since. We have the trophies proudly displayed in our shop!
Cabrio Taxi Pedicab at San Francisco Bow & Arrow
Cabrio Taxi pedicabbre Paul Lugo offers a pedicab ride around San Francisco to some Newlyweds.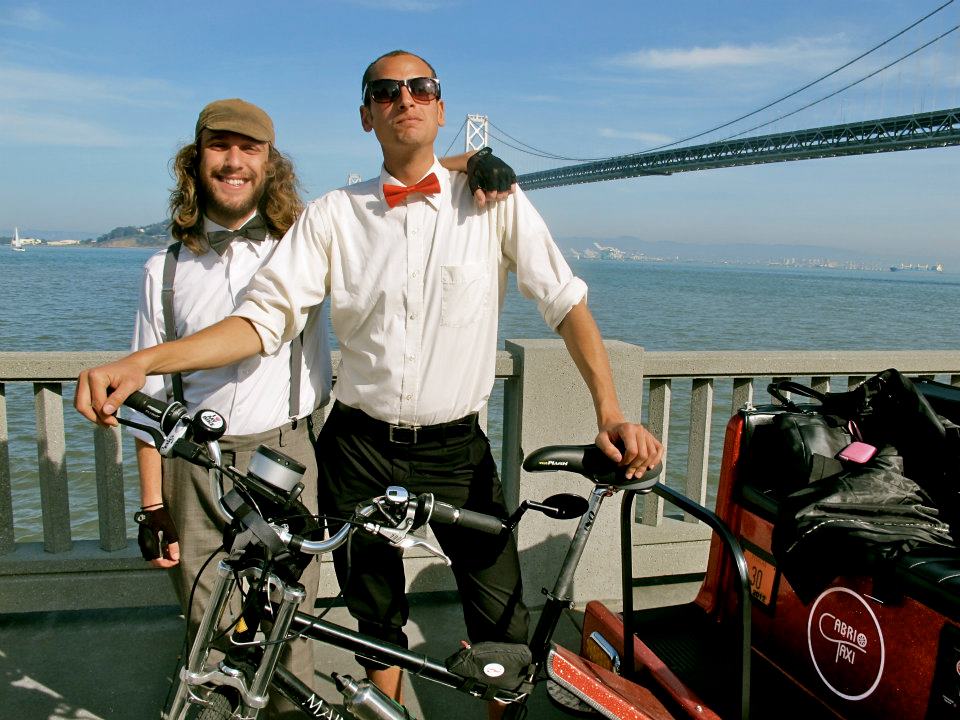 Two Happy Pedicab Operators
An iconic photo in the Cabrio Taxi shop, Paul Lugo and Cory Sherman look their best in front of the Bay Bridge before a VIP pedicab event.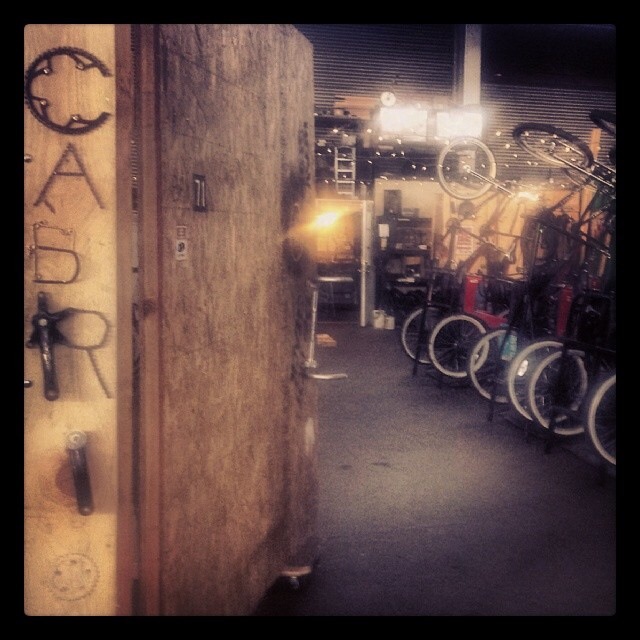 The Cabrio Taxi Pedicab Shop
Take a peak inside our shop! Located just south of the Ferry Building in Pier 26, along the Port of San Francisco in the CIty of San Francisco, our shop is warm, friendly, and has a phenomenal view. Come see us!
First Cabrio Taxi ALC Team Halfway to LA
Meet our inaugural AIDS/Lifecycle team. Mike & his wife Melissa convinced us to join. Geoff, Mimosa, Peter Lugo, and Micah Davis would join to carry the Cabrio Taxi banner on our First SF-LA ride.
Pedicabs at Moscone Center for Greenbuild 2012
The US Green Building Council held their annual meeting, Greenbuild, in San Francisco in 2012. Being focused on sustainability and environmental issues, they wanted to ensure their transportation sponsorship package was also green. Pedicabs are also a fun way to deliver brand message to large audiences that attend Moscone Center outside the noise and distractions of the exhibit hall. Office Depot sponsored a fleet of pedicabs, which provided free rides to Greenbuild attendees. Each pedicab was "fully wrapped" in the Office Depot brand and equipped with a banner for extra exposure. All drivers wore branded t-shirts and hats and delivered talking points to passengers on Office Depot's sustainability message.
Pedicab Operator at Pride Parade
Our beloved San Francisco pedicab operator, Jordan, shows his winning smile at the San Francisco Pride parade in 2014.
Pedicabs on Halloween
San Francisco pedicab operator Aaron dressed to impress on Halloween.
Cabrio Taxi Formal 2013
Cabrio Taxi hosts a formal for its San Francisco Pedicab Operators each Fall. We have a great time. In 2015, we dressed up for formal bowling.
Pedicabs at San Francisco's Java House
Our Cabrio Taxi Pedicab Operators post up near Java House for a group ride.
Taking Care of Our Pedicabs
Here San Francisco Pedicab Operator Tim Hallahan gets under the hood with one of our red-and-sparklies.
Pedicab anyone?
This photo is one of our earliest, with our first ever pedicab operator Bill Cummings carting around founder Geoff Abraham before an event. Wow, how time flies!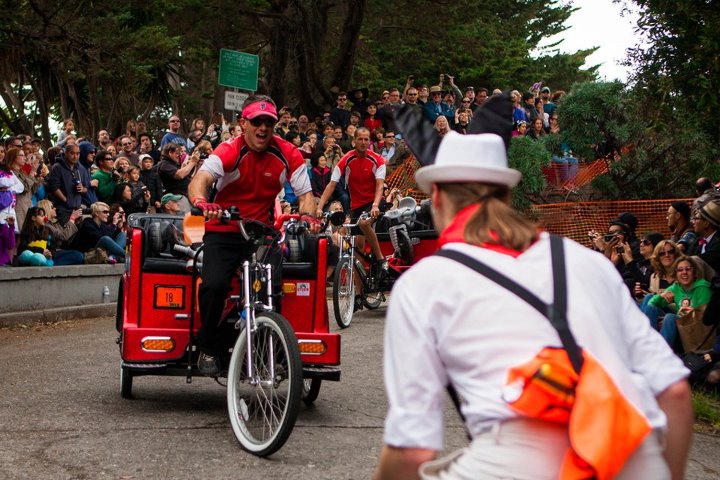 Pedicabs at Little Big Wheel
Have you heard of the Little Big Wheel race down Vermont Street in San Francisco? We hadn't until Mike pointed it out to us. Turns out that our trikes are basically big Little Big Wheels. We paced the group by running our tricycles down the course first. Here's Mike and Paul on their way down.
Pedicab Operator with the Mayor
Mayor Ed Lee loves pedicabs! Here is Jordan giving him a ride in Fisherman's Wharf!
Group of San Francisco Pedicab Operators
Here we are -- family photo! This is some of us, anyway. We took this photo near AT&T park while we were getting professional shots of our pedicabs.
Pedicabs at San Francisco Santa Con
James shows off why our sparkly red tricycles are perfect for Santa Con in San Francisco.