San Francisco's Classiest Pedicabs.
Give them something to talk about.
Do you need to move your wedding guests from ceremony to reception and keep them basking in the breeze of the San Francisco Bay? Or get convention guests from the Moscone Center to an after-party? Are you treating a group to dinner and a movie, and you want to keep the party going in transit? Cabrio Taxi pedicabs are your best source for professional, reliable service with a smile.
Pedicabs are so much more than an eco-friendly way to transport large and small groups between locations in San Francisco. Adding Cabrio Taxi's pedicabs to your event will ensure that transportation becomes an integral component of the overall experience. Pedicabs can even be incorporated into team building activities (e.g. treasure hunts and decorating competitions).
Passengers often tell us that their pedicab ride was their favorite part of the event. While a lavish dinner, or educational forum will be appreciated, an open air ride through San Francisco, possibly taking in the breath taking views of the Bay Lights project on the Bay Bridge, is always a highlight that will be remembered by your guests and customers.
Additionally, pedicabs generally operate in dedicated bicycle lanes throughout San Francisco. This ensures unexpected traffic delays, which are very common in the City, do not create scheduling challenges for the event coordinators.
We'll deliver an experience that your guests will be talking about long after your event winds down. Individualized pricing is available, as well as volume discounts where applicable. To wow your guests with Cabrio Taxi Pedicabs, contact us anytime.
Album: See how we class up events.
Media Options: How to Dress a Pedicab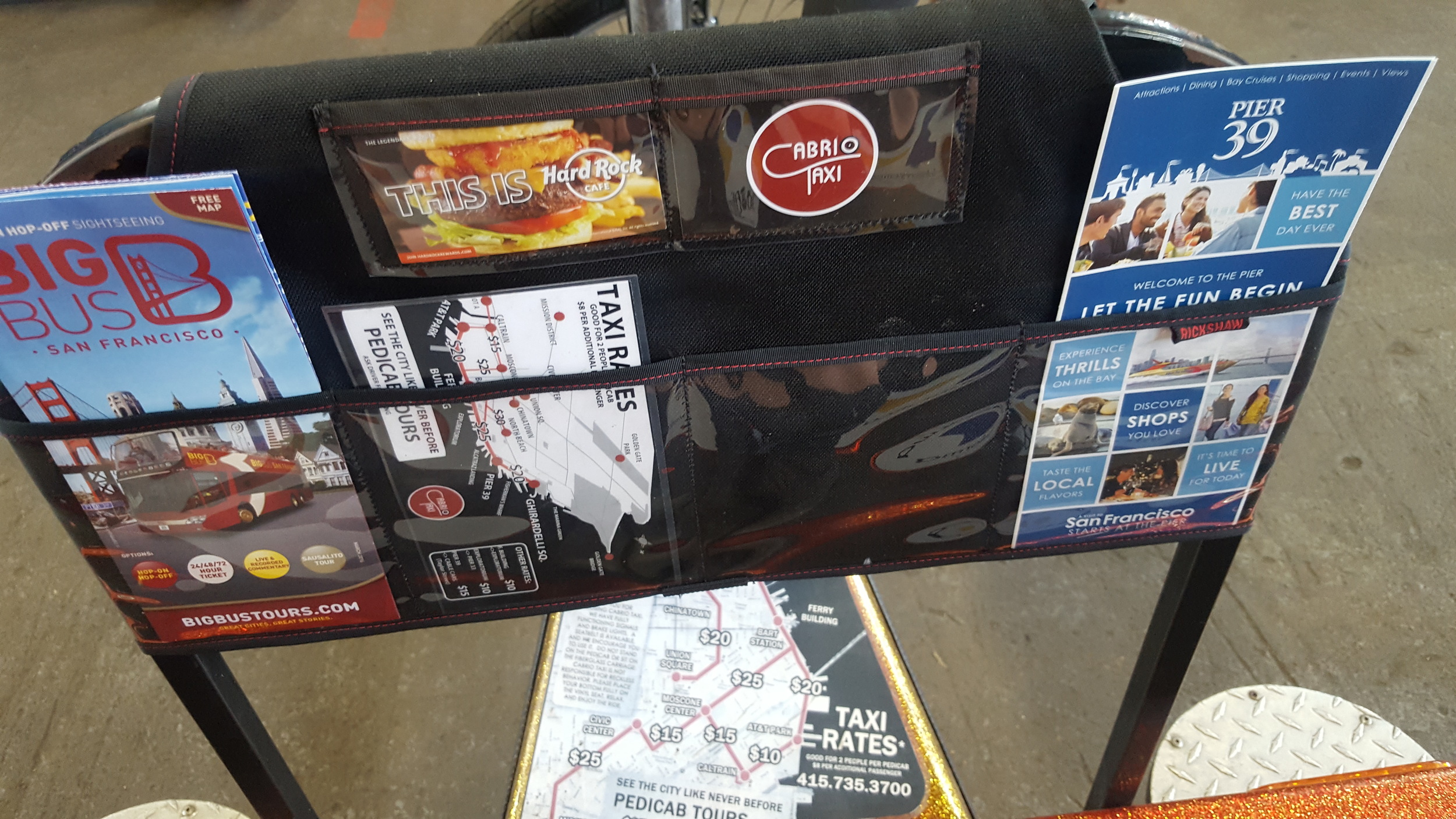 Our Yelp Reviews are 5-Stars Strong
Browse the competition
We're so confident at Cabrio Taxi that we're best in class, we encourage you to look around. Not to mention, some of our colleagues do good enough work to see for inspiration.
When to use our pedicabs
We have participated in so many events! Just to name a few...
Corporate, Promotional & Special Events
Bachelor & Bachelorette parties
Fundraisers
Birthday Parties
Holiday Parties
Scavenger Hunts
Your Event Here