Levi's Surprises & Delights at Super Bowl 50
Levi's knew that they would need to give the citizens of and visitors to their longtime home something special. Super Bowl 50 -- the first ever Super Bowl in San Francisco -- would take place at their recently named namesake stadium, Levi's Stadium. For the 10 days prior to the event, The Super Bowl Host Committee would host Super Bowl City in downtown San Francisco to celebrate the historic event. Super Bowl City would be free-to-the-public fan village and will "offer a fun – and free – way for locals and visitors alike to enjoy the extravaganza that is the sporting world's biggest annual event.... and will be designed to showcase the best the Bay Area has to offer.
As the iconic 150-year brand of the City of San Francisco, Levi's would participate in Super Bowl City by sponsoring a concert stage at Sue Bierman Park complete with daily programing in as well as host an interactive "brand island" in the public space Justin Herman Plaza. Levi's hoped to tie together these outdoor brand activations with other important locations and events in the City -- Levi's Corporate Headquarters, Levi's flagship store at Market & 4th, and the NFL Experience (the NFL's interactive theme park experience hosted at Moscone Center).
Cabrio Taxi's fleet of beautiful pedicabs and small army of professional pedicab operators were experienced at surprising and delighting passerbyers on behalf of the Levi's brand. Levi's determined a fully branded pedicab service, complete with collateral distribution, talking points, etc. would be the perfect platform to weave together otherwise disparate locations and events. Moreover, through the legacy 50 Fund, the Super Bowl Host Committee identified "Sustainable Environments" and "Community Investment" as two of three areas of focus for legacy impact of their event and partners. Cabrio Taxi is obviously sustainable but also proudly local, and would exclusively employ Bay Area lifestyle pedicab operators -- for whom these activations impact their livelihoods.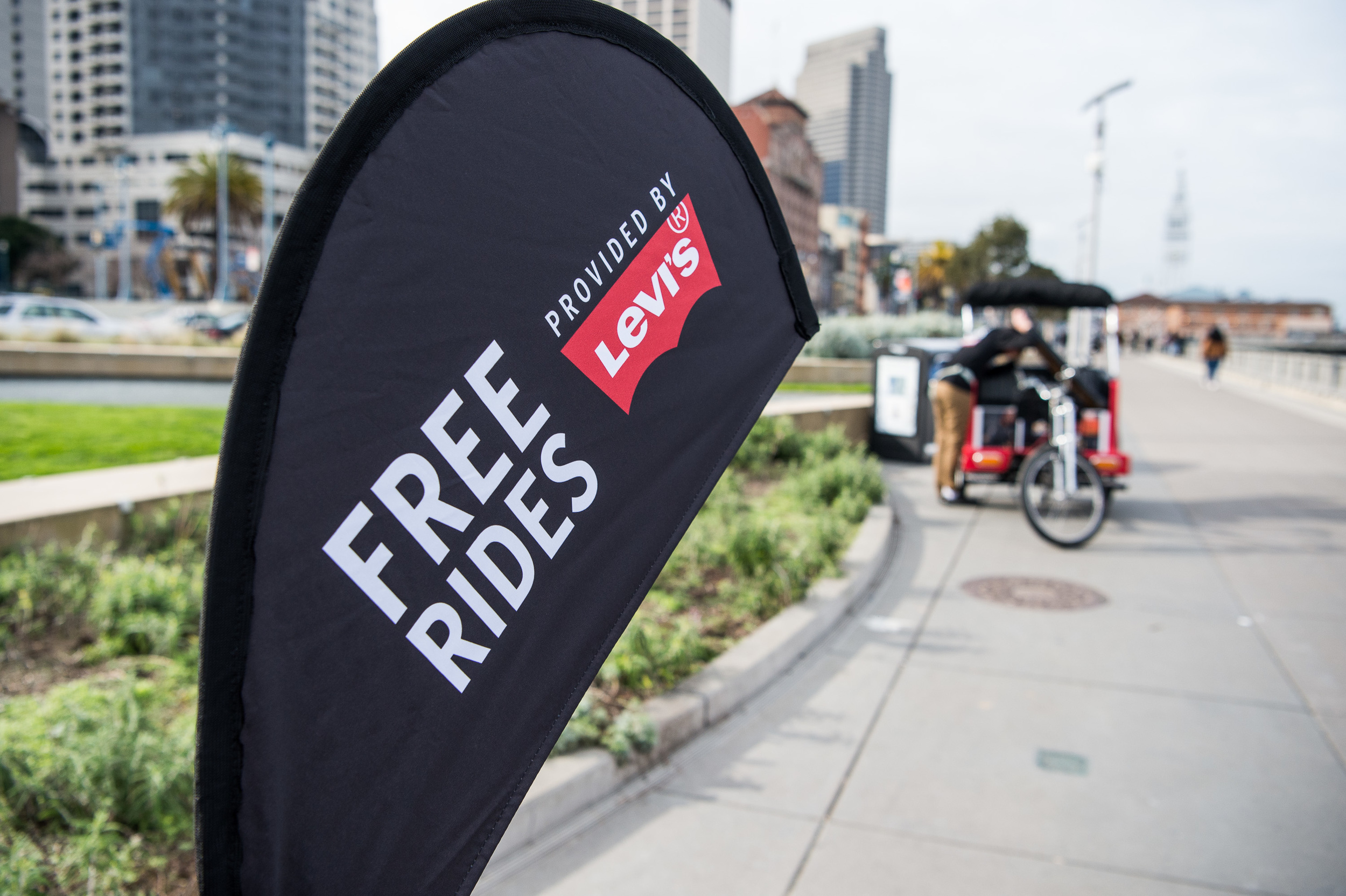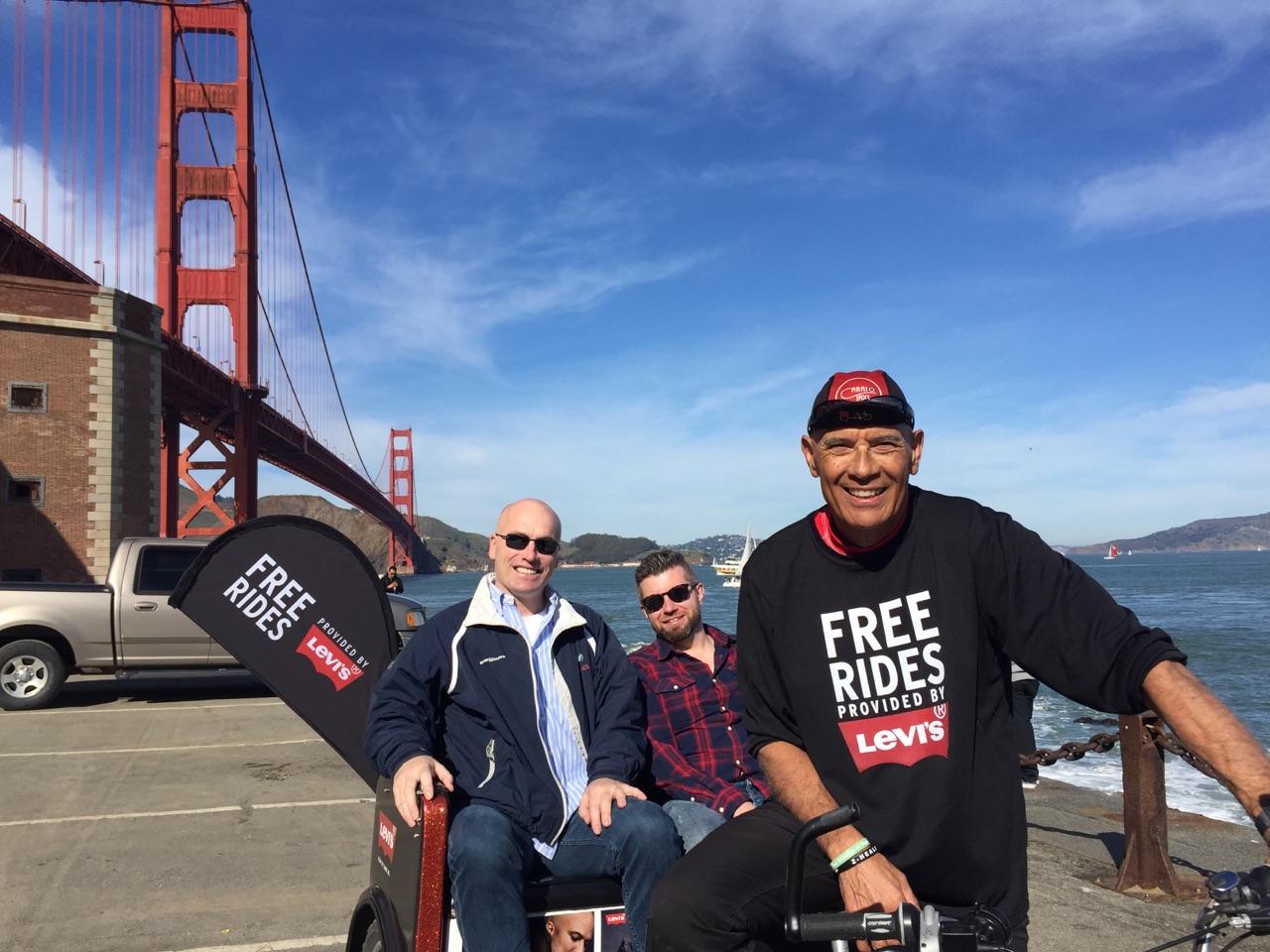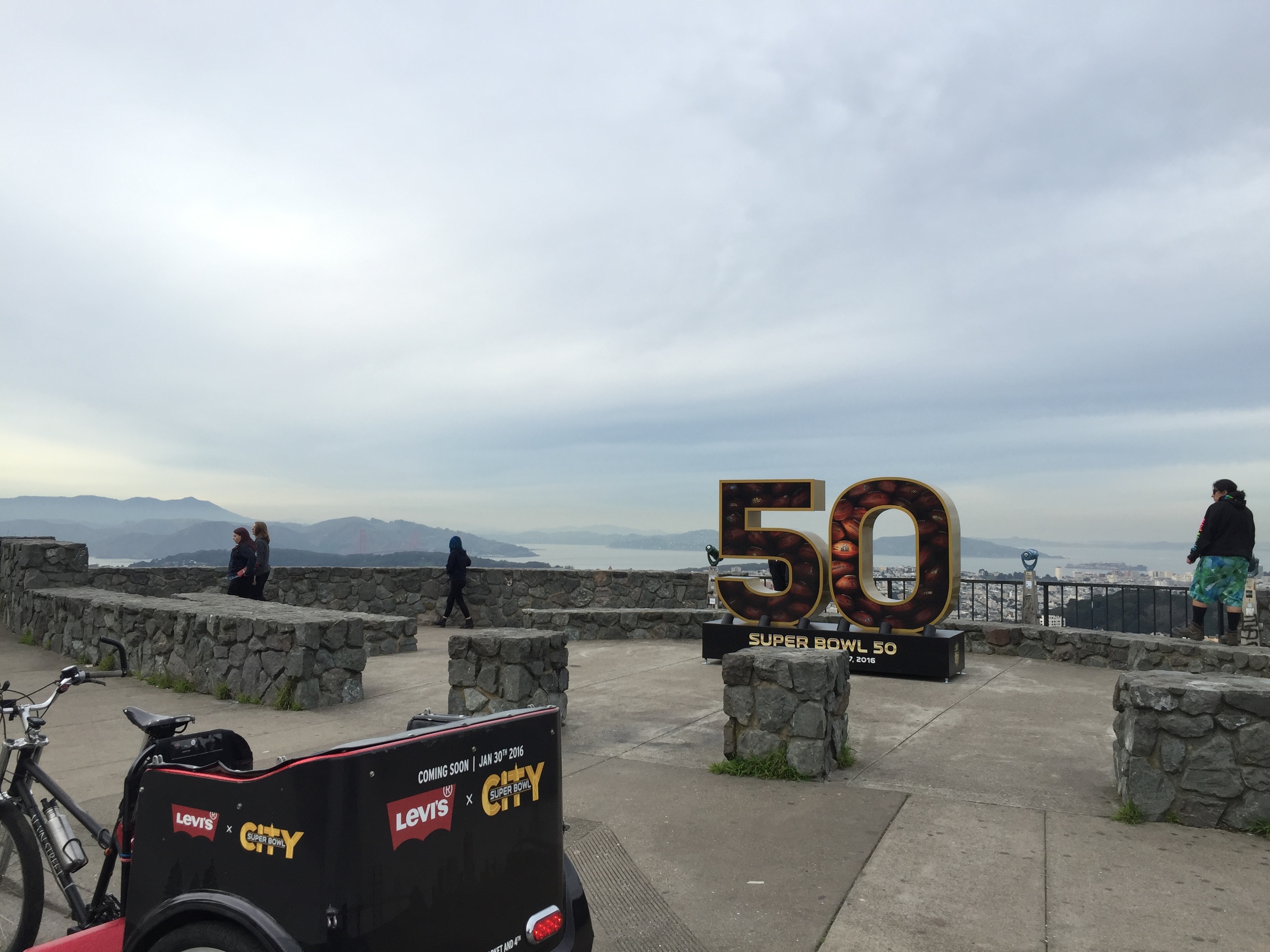 T-Mobile's Summer 2016 San Francisco Pedicab "Domination"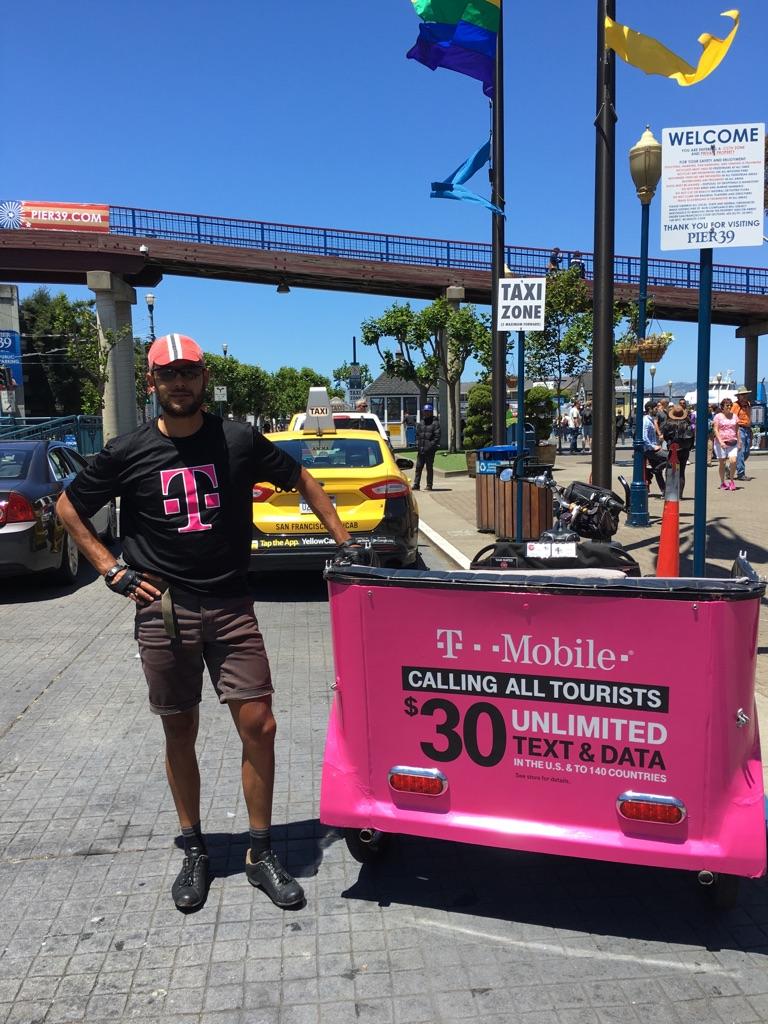 Xero's Summer 2016 San Francisco Pedicab "Domination" pre XeroCon
Levi's Pedicabs take you to AT&T park
Levi's 2012 Go Forth™ Global Marketing Campaign is redefining how business relates to its customers, and was extended into a free pedicab ride campaign during the San Francisco Giant's World Series Championship. Outfitted in Levi's Commuter jeans and t-shirts, and sharing Levi's Go Forth™ message, more than 25 Cabrio drivers spanned the area around AT&T Park on game days offering free rides to fans going to and from the games courtesy of Levi's. Drivers encouraged passengers to post to the #goforth campaign on social media and a few lucky posters were selected to receive a free Levi's jeans. Levi's has since employed Cabrio Taxi pedicabs in subsequent activations, including important rivalry games. Levi's even included Cabrio Taxi in the 2012 and 2014 World Series Parades!

Greenbuild's Pedicab Sponsorship
The US Green Building Council held their annual meeting, Greenbuild, in San Francisco in 2012. Being focused on sustainability and environmental issues, they wanted to ensure their transportation sponsorship package was also green. Pedicabs are also a fun way to deliver brand message to large audiences that attend Moscone Center outside the noise and distractions of the exhibit hall. Office Depot sponsored a fleet of pedicabs, which provided free rides to Greenbuild attendees. Each pedicab was "fully wrapped" in the Office Depot brand and equipped with a banner for extra exposure. All drivers wore branded t-shirts and hats and delivered talking points to passengers on Office Depot's sustainability message.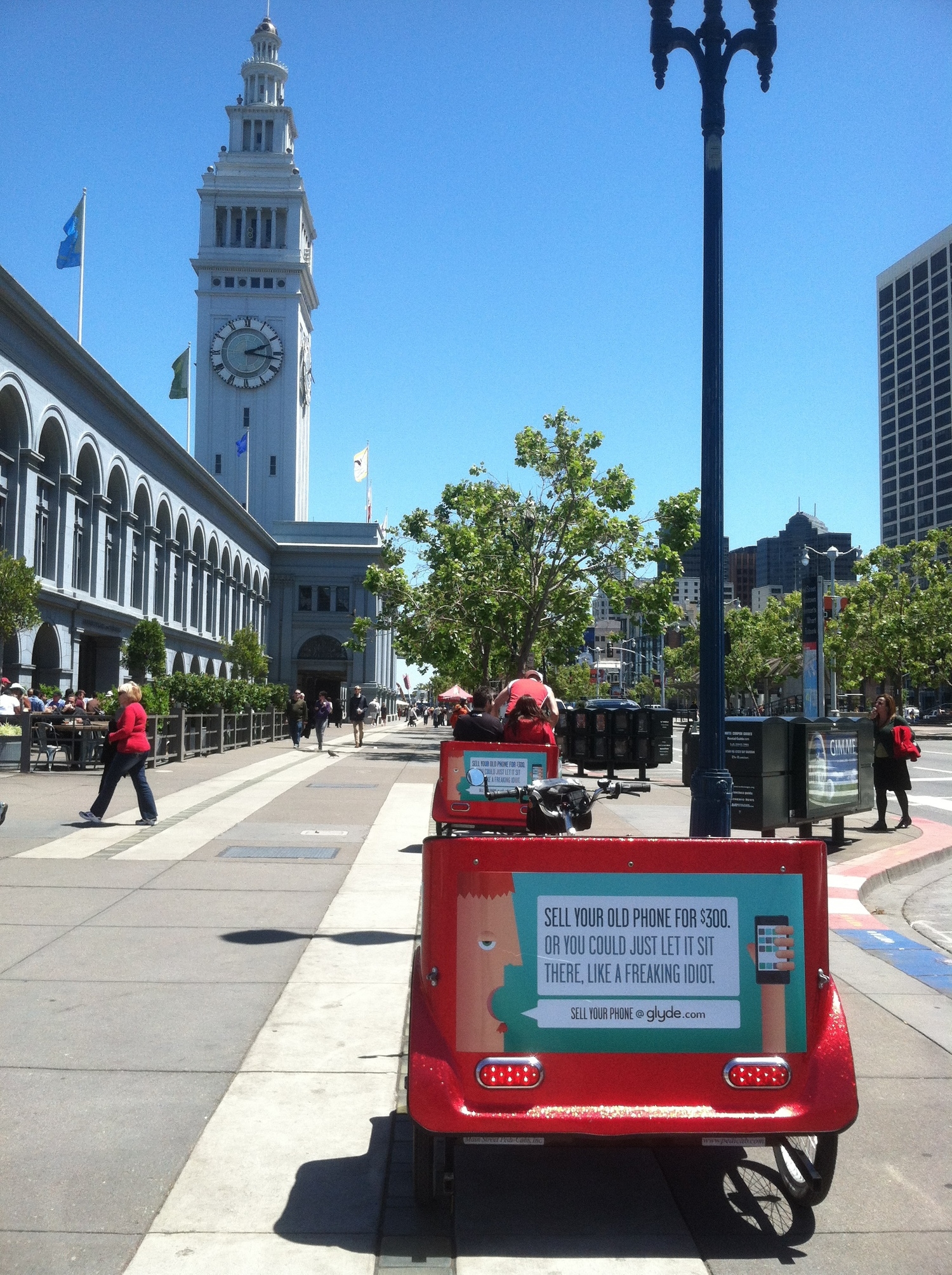 Rolling Billboards for Local, Tech Brands
We have executed year long to week long out-of-home (OOH) advertising campaigns throughout San Francisco. The Embarcadero is frequented by San Francisco residents as well as visitors from around the country. It is a perfect area to include in their campaign. Pedicabs are one of the few outdoor media options along this highly traveled corridor, but it's also one of the most effective. Pedicabs advertisements lead to tens of thousands of impressions among pedestrians, cyclists and motorists everyday. Often, more importantly, our drivers serve as brand ambassadors, ensuring impressions convert to customers at much higher rates than other outdoor media. Aquarium by the Bay, Hard Rock Cafe, Il Fornaio, the Exploratorium, Rickshaw Bagworks, and Glyde.
Desigual's Daring Pedicab "Undie Party"
They pulled it off in Barcelona and New York, and then the daring Spain-based clothing company decided to bring the "Desigual Undie Party" to San Francisco. Desigual provided a free outfit to the first 100 people in line -- so long as they showed up in their underwear, and nothing else! How did they promote their campaign? Among other channels, they chose Cabrio Taxi pedicabs. Our pedicabs carried underwear models through the City streets proclaiming the "Undie Party" to the San Francisco crowds. When the pedicabs weren't rolling with models, they were branded with eye-catching media. On the 2nd and 3rd days of the campaign, our client asked if some of our riders -- they were flattered -- would ride the pedicab in their underwear. We did. In the end, the campaign was a huge success.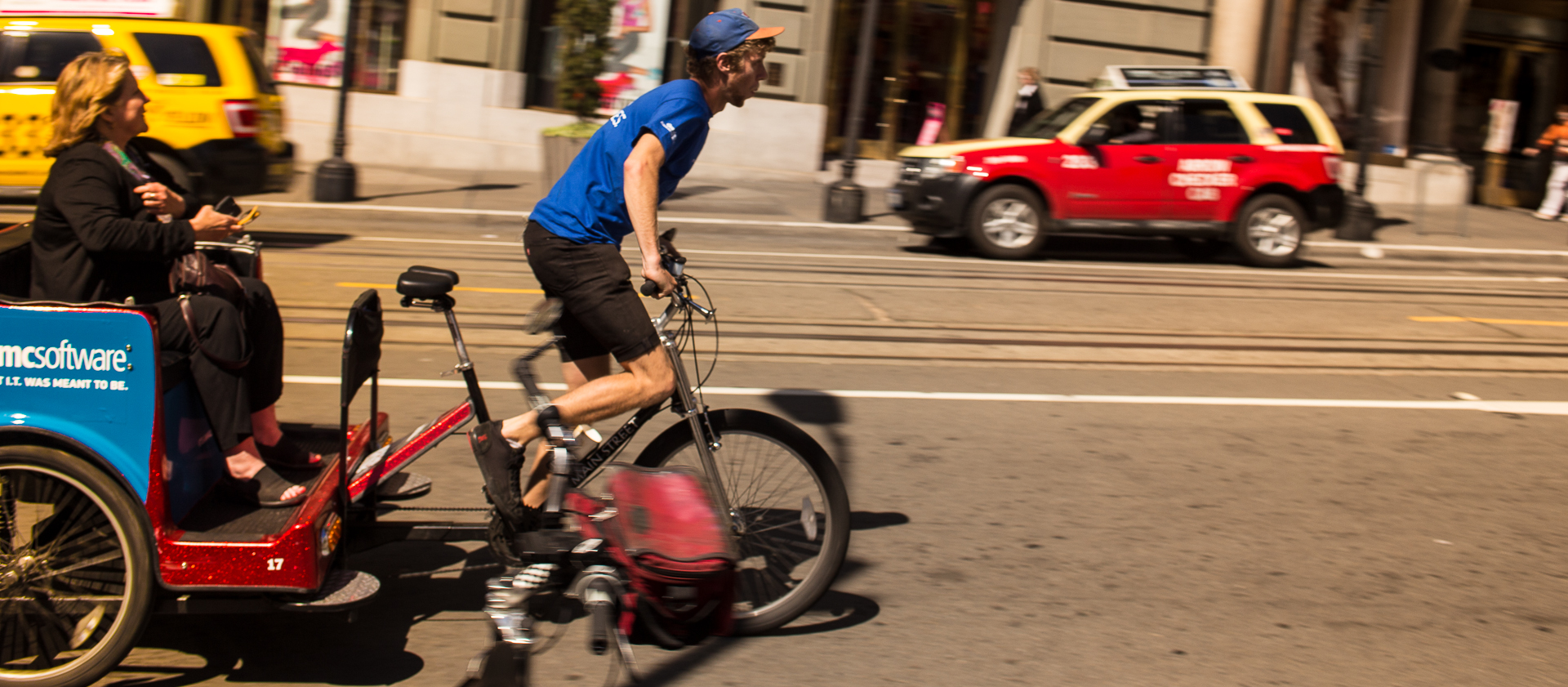 BMC & Zoho Mount Guerrilla Campaigns
Conferences are big business. They're also ripe for rivalry. Is your competitor hosting a big conference that you want to show up at in a big way? Perhaps you want us to deliver a message during our fee pedicab rides, or even capture potential customer leads. Pedicabs offer an effective, legal means to paint the streets the color your competitor doesn't want to see. At the 2013 Dreamforce event, Zoho offered free rides for one 13-hour conference day. Zoho strategically chose to offer free rides to the concert, when the "official" pedicabs of the conference weren't on call. Then, in 2014, BMC showed up at Service Now with 25 pedicabs when the "official" conference pedicabs only numbered 5. To quote a passenger: "You wouldn't believe it! It's all anyone is talking about inside."
esurance "Free Rides" at Outside Lands
Another Planet Entertainment, the festival producer, hired 10 Cabrio Taxi pedicabs, which provided free rides to fans going to and from the festival along JFK Drive in the park. The pedicabs were branded with Esurance advertisements that coordinated with the rest of their transportation sponsorship activation. Additionally, each pedicab driver was outfitted with an Esurance t-shirt and each pedicab was equipped with an Esurance banner. Everyone that walked along JFK Drive over the three days knew Esurance was offering free pedicab rides. Even if a fan didn't take a ride, they were grateful to Esurance for the opportunity to grab a ride. Fans loved it, Esurance got great exposure and customer appreciation and Another Planet Entertainment grew their sponsorship portfolio and revenue.
Louis Vuitton pampers VIPs with pedicabs
Louis Vuitton decided they wanted to offer their publicity contacts a special treat -- they wanted to offer them a tasted of "Healthy San Francisco". Louis Vuitton VIPs were carried to the Ferry Building Farmer Market to select fresh food to be cooked the very same evening with guest chefs. How did they want their guests to get around? You guessed it. In a pedicab. Cabrio Taxi's Louis Vuitton branded pedicabs connected the guests from their hotel to all subsequent destinations.
Cirque du Soleil Pedicab Extensions
Each year Cirque Du Soleil constructs a big yellow tent in our back yard -- right behind AT&T park -- to put on a spectacular show. Many of the show's attendees are accustomed to using pedicabs to arrive at the show. Moreover, our pedicabs circle the show area, and so they can let potential audience members know of the show they should see. For the last 3 shows, Cirque Du Soleil has chosen to advertise with Cabrio Taxi. This year, they decided to dress up our pedicabs. Don't they look spectacular?
Annual Pedicabs at Exploratorium Gala
We love the Exploratorium. We couldn't wait until they arrived at their new Pier 15 location, which is right in our back yard. Lucky for us, they seem to love us back. We partook in their Grand Opening Gala -- we even were able to ride passengers around inside the building itself! -- and we've partaken in every Gala since. We're proud to be associated with this incredible place.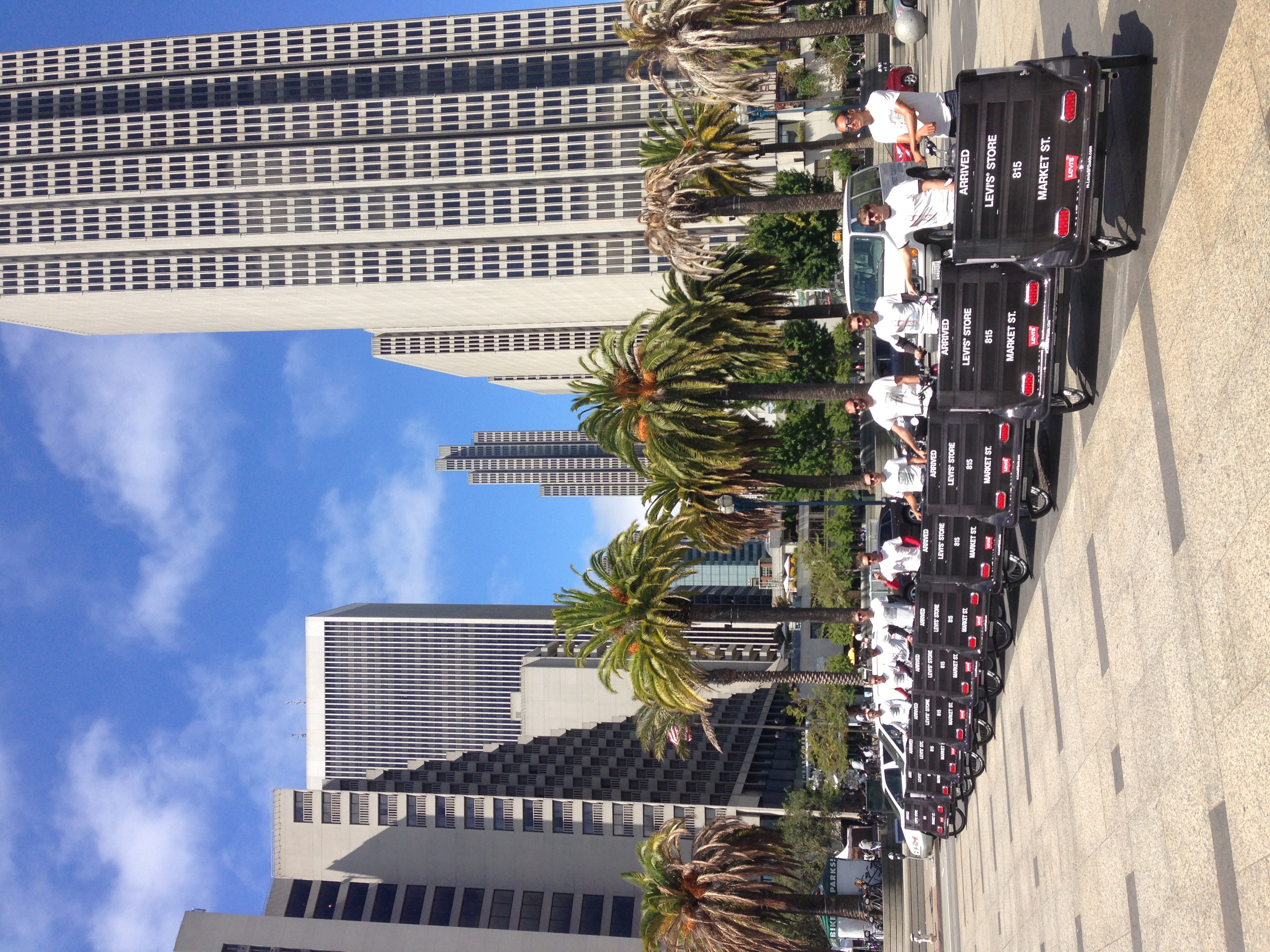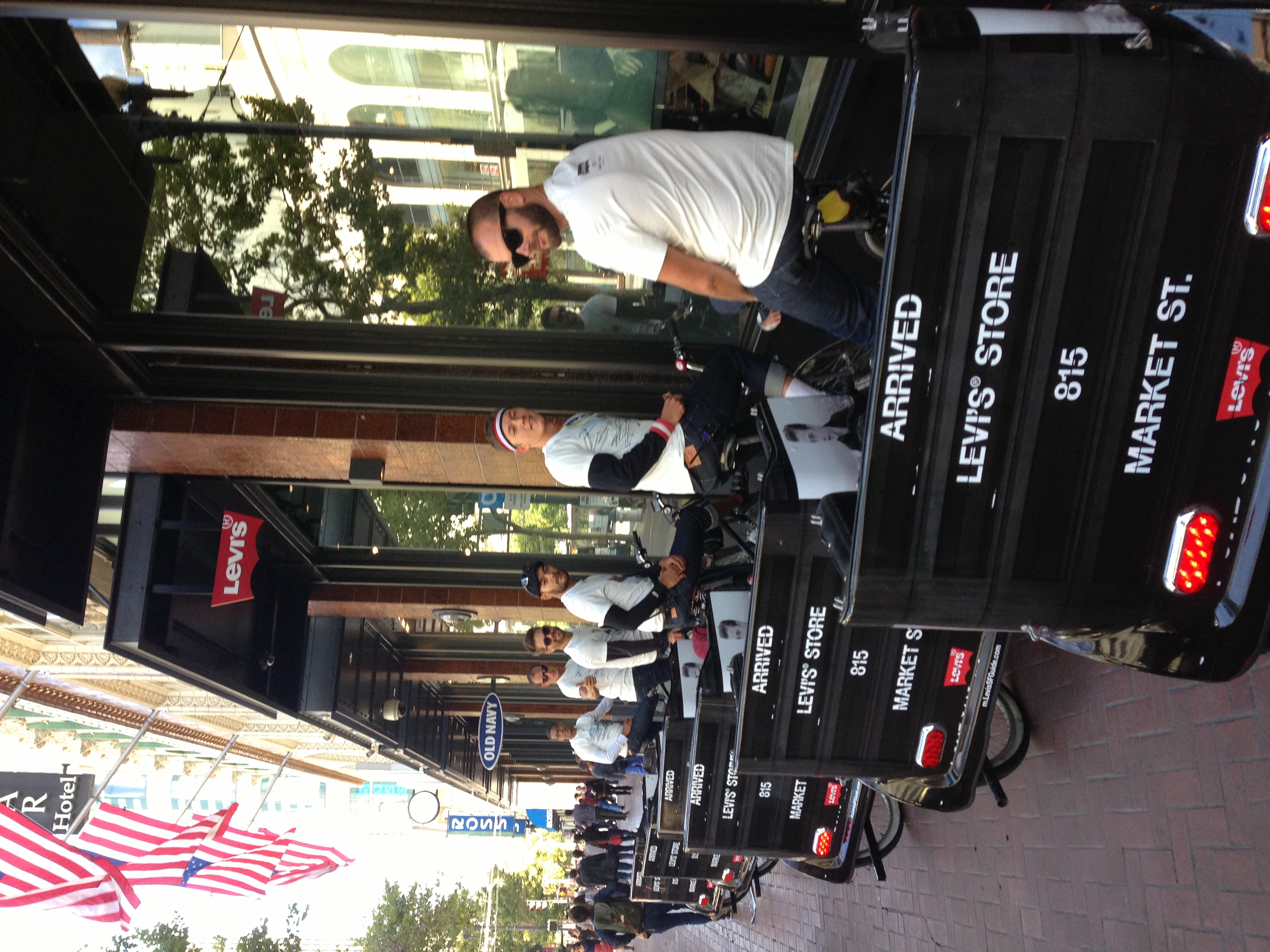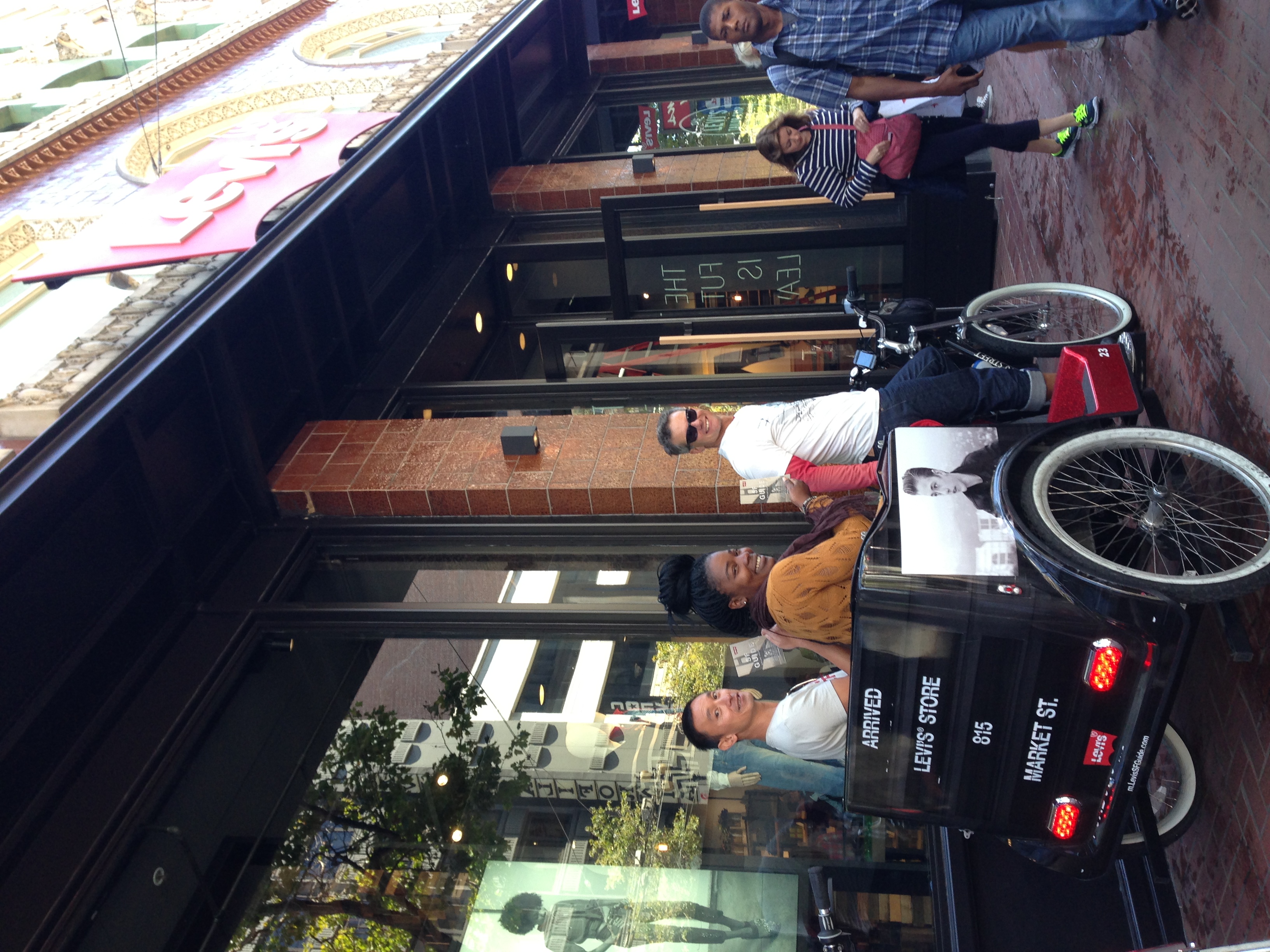 Levi's New San Francisco Store Opening
When Levi's moved their store location from Union Square to Market Street, they wanted to make sure the City knew about it. They chose Cabrio Taxi to spread the good word as well as deliver passengers directly to their door. Some Cabrio Taxi pedicabs helped passengers who had arrived at their old location to quickly arrive at the new one.
Odwalla: Free Pedicab Rides on Earth Day
Odwalla decided to make a splash on Earth Day by offering free pedicab rides -- and free product -- to San Francisco commuters. Cabrio Taxi pedicabs picked up surprised passengers from the Ferry Building and BART station to deliver them to wherever they needed to go. Not only did the passengers arrive more quickly and less tired than by foot, they arrived with a smile on their face.
If you've made it this far, perhaps you'll enjoy a few of our videos:
Browse the Competition
We're so confident at Cabrio Taxi that we're best in class, we encourage you to look around. Not to mention, some of our colleagues do good enough work to see for inspiration.